The Box Show with Junkyard Beats Children's Workshop
Transform ordinary household items and recycled materials into musical instruments. This workshop will amaze and inspire participants about music and sustainability. The workshops are perfectly designed to get children engaged, to foster their creativity and explore a whole new way of recycling!
Through these workshops children will learn Junk-Percussion and Body-Percussion we will encourage team-work and creativity. Two Workshops: one for children aged 5 – 8 years and one for children aged 9 – 12 years. Maximum of 35 per workshop.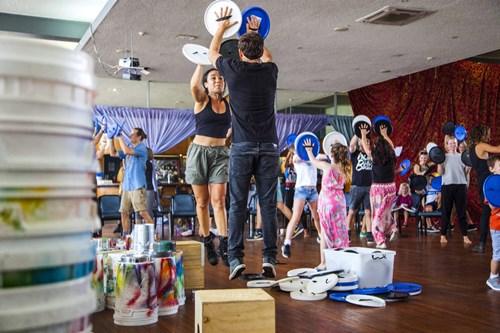 Event and ticketing details
Accessibility
Dates & Times
Workshop for 9-12 year olds

TUES 5 JULY

- 3:30PM

Workshop for 5-8 year olds

WED 6 JULY

- 11:30AM

Duration

Approx. 60 minutes

Age recommendation

For kids aged 5 to 12 years

Warnings

Some sudden loud noises
You might also be interested in...