The Box Show with Junkyard Beats
The Box Show is a family show designed to excite the imagination of children and adults alike. 
We follow four characters during their daily activities in a world made of cardboard boxes and junk. With a language of gibberish and rhythm (Rhythmish), this show is accessible to any age and nationality.
The contents of an abandoned kitchen become the greatest drum set in the world. Pipes from a plumber's van produces eerie melodies, plastic bags are an amazing musical instrument and wheelie bins suddenly get a whole new meaning.
Tag along for a day in the life of a bunch of musical misfits as they reinvigorate the junk that the world has forgotten. 
Children's Workshops
Transform ordinary household items and recycled materials into musical instruments. This workshop will amaze and inspire participants about music and sustainability. The workshops are perfectly designed to get children engaged, to foster their creativity and explore a whole new way of recycling!
Through these workshops children will learn Junk-Percussion and Body-Percussion we will encourage team-work and creativity. Two Workshops: one for children aged 5 – 8 years and one for children aged 9 – 12 years. Maximum of 35 per workshop.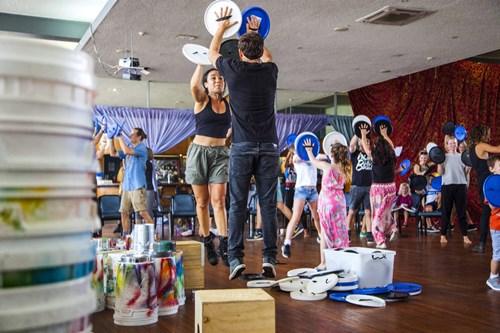 "The climax of the show is a selection of garbage bins that they bang like drum kits, kicking and whacking the lids and sides to make all kinds of different rhythms and noises. The audience stand and cheer wanting more from the performers. The crowd is full of smiles as they exit the stage."
Event and ticketing details
Accessibility
Dates & Times
Performance

TUES 5 JULY

- 2:00PM

Workshop for ages 9-12 years

TUES 5 JULY

- 3:30PM

Performance

WED 6 JULY

- 10:00AM

Workshop for ages 5-8 years

WED 6 JULY

- 11:30AM

Performance Duration

Approx. 60 minutes

Workshop Duration

Approx. 45-60 minutes

Age recommendation

For kids aged 5+ years & their families

Warnings

Some sudden loud noises
Tickets
| | |
| --- | --- |
| Show Tickets | $28.00 |
| Workshop Cost | $15.00 |
| Booking fee | $3.30 - A one-off booking fee applies per transaction. This is regardless of the number or value of items purchased. |