THE WHITLAMS - Early Years '93-'97 Feat. Scott Owen (The Living End)
The Whitlams four piece is joined by Scott Owen from The Living End to recreate the rollicking energy of its first three albums. Who better to rip through the double bass classics from '93 to '97 than the human powerhouse who has driven The Living End's famous rhythm section since its inception.
The distinctive slapping catgut of the double bass propelled The Whitlams onto the airwaves through the mid 90s, from their debut "Gough" in 1993, to the crossover hit "I Make Hamburgers" in 1995, to the frenetic "You Sound Like Louis Burdett" in 1997. Scott Owen will join the band for the first hour of the show in which they will perform the best of "Introducing The Whitlams", "Undeniably The Whitlams" and "Eternal Nightcap".
The Whitlams' no. 1 "No Aphrodisiac" marked the band's evolution onto electric bass, with the reflective first half of the song being recorded on double bass, and the second half on electric. At that pivotal moment Whitlams' bassist Ian Peres will move from the Hammond organ onto bass and bring the show home with a string of the more recent hits like the ever relevant "Blow Up the Pokies".
The Whitlams are Tim Freedman on piano and vocals, Jak Housden on guitar, Terepai Richmond on drums, and newest member, Ian Peres, on Hammond organ and electric bass.
This is an all ages performance.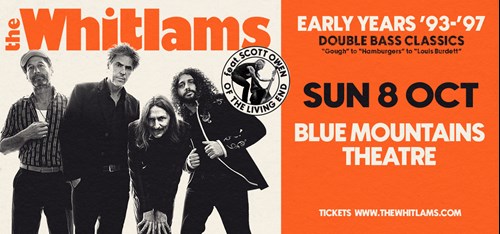 "The songs splash colours across a portrait of a lonesome, inner-city suburbia that few others can match for original detail and authenticity.... The Whitlams have never sounded even mildly like anybody else."
— The Newcastle Herald
Event and ticketing details
Accessibility
Dates & Times
Performance

SUN 8 OCT

- 6:30PM

Duration

Approx. 140mins including interval
Tickets
| | |
| --- | --- |
| All tickets | $69.90 |
| Booking fee | $3.70 - A one-off booking fee applies per transaction. This is regardless of the number or value of items purchased. |
You might also be interested in...