Crust exhibition in 2022 by Caren Berzins, Martin Lukersmith and Ali White. Photo by silversalt photography.
There are a variety of ways you can become involved in Braemar Gallery and Hub Upstairs Gallery, from volunteering to exhibiting work. From time to time, the Braemar Gallery Management Committee also seeks expressions of interest for new members.
Braemar Gallery & Hub Upstairs Gallery Exhibition Program
Applications Closed
Exhibiting at Braemar Gallery or Hub Upstairs Gallery is a wonderful opportunity for Blue Mountains artists to share their work with the community. Each year around July and August, we have an open call for applications to exhibit the following year.
Our open call for 2024 is now closed. Thank you to everyone who applied. We will be in touch soon.
Image: Crust exhibition in 2022 by Caren Berzins, Martin Lukersmith and Ali White. Photo by silversalt photography.
Volunteer at Braemar Gallery
Expressions of interest open
We are always looking for new volunteers to join our team to help open, supervise and close Braemar Gallery from 10am to 4pm on Thursdays, Fridays and weekends. Shifts are three hours long and we usually ask for one shift per month.
No experience is necessary, just an appreciation of art and an eagerness to greet visitors with a friendly smile and provide general information as required. Volunteer duties include opening and closing the gallery, keeping up to date with exhibitions, tracking visitor numbers, and carrying light weight external signage such as flags and A-frame signs. An induction briefing is provided to all new volunteers and a "buddy system" is usually arranged for the first few shifts.
In addition to supporting the Blue Mountains arts community, volunteers have the opportunity to exhibit in an annual end of year exhibition and attend a Volunteers Week gathering
Please read, complete and return our Volunteer Registration form to braemargallery@gmail.com and our Volunteer Coordinator will be in touch with you soon.
Braemar Volunteer Registration Form
Image: Braemar Gallery and Blue Mountains Cultural Centre volunteers attending a celebration for Volunteers Week 2023. Photo by Olivia Wynne.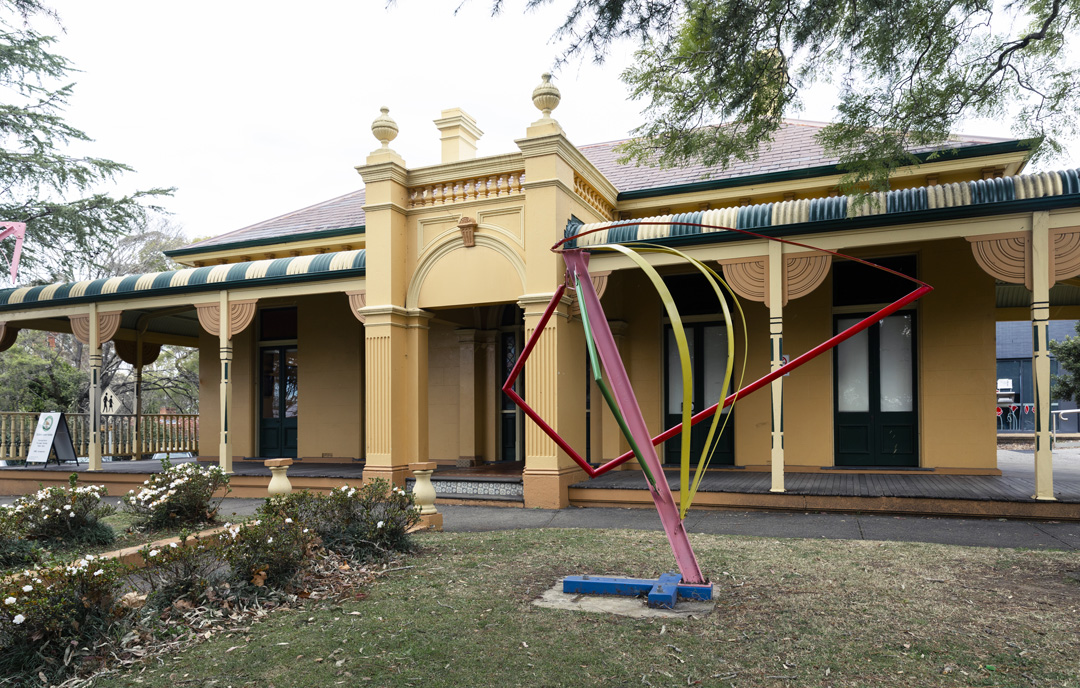 Public Sculpture Program
Expressions of interest open
Braemar Gallery is accepting Expressions of Interest for sculptors to exhibit upon the lawns of Braemar House. This initiative is a great opportunity for artists and community groups based in the Blue Mountains region to exhibit external sculptures at this historic venue to a large and diverse audience.
Download the Public Sculpture Program Expression of Interest.
Image: LAURENT RIVORY Terrae Omnium (detail) 2022, painted recycled steel, approximately 3.2m x 2.8m x 1.5m and 3.1m x 2m x 1.5m. Photo by silversalt photography.